Hug Me Tight

Hug Me Tight is a charming handwritten font that exudes warmth, playfulness, and creativity. Designed by Misti's Fonts, this delightful font is perfect for a wide range of design and craft projects, from greeting cards and invitations to logos and branding materials.
What sets Hug Me Tight apart is its unique combination of bold lines and soft curves. The thick strokes of the letters give the font a bold, confident feel, while the gentle curves and subtle flourishes add a touch of whimsy and charm. The result is a font that is both eye-catching and inviting, perfect for capturing the attention of your audience and drawing them in.
Whether you're looking to create a cozy, welcoming atmosphere or simply want to add a touch of personality to your designs, Hug Me Tight is a font that will not disappoint. So go ahead and download it today, and discover for yourself the magic and charm of this playful and inviting typeface!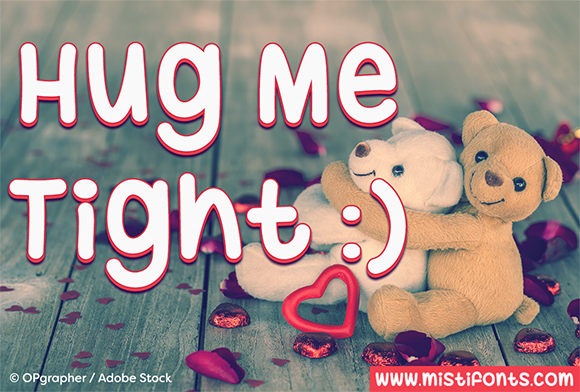 More faces...
This download contains 2 font faces
More fonts from Misti's Fonts
Related Fonts