American Captain by Fontry
American Captain is a font similar to the one used in the Marvel Captain America movies.
It's a heavy, caps-only sans serif font. But that doesn't really describe it well. I think the font author does a better job, so I'll hand off to him.
This font represents the unparalleled strength of one man who saved an entire world from the crushing yoke of tyranny. This man was an outstanding captain of men, an American patriot of unquestionable calibre. And within this font is captured his fighting spirit, his unyielding determination. This face is dedicated to him, the captain America knows and respects, the captain America font designers like myself strive to symbolize in their work. So enjoy the power that is the font I call, American Captain.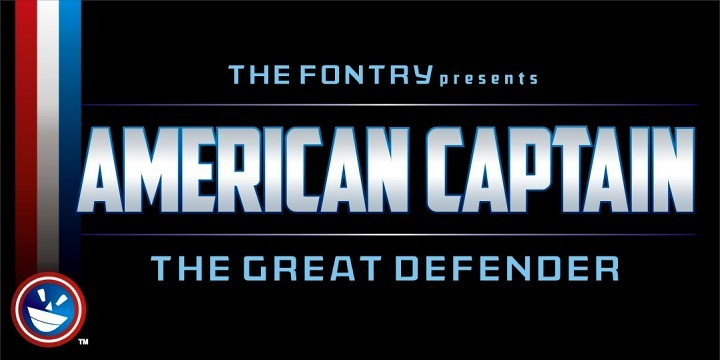 More faces...
This download contains 2 font faces
Related Fonts
Looking for more?
Always on the lookout for new fonts? Why not sign up for our weekly newsletter for a steady stream of new fonts in your inbox?
Or, if you're more into social media, we're there too! Follow us with any of the links below for a steady stream of new fonts.